Workplace Design Strategy
How might a work environment be a signature of its work process, mentorship spirit, and collective culture?

Context
Ten years since their last global workplace design initiative, our client desired to revisit the existing design standards with an intent to reimagine their workplace for the future. What began as an exercise to update their design standards and guidelines became a wider exploration of how employees work, what they hold dear, and what might set them up for success.
Mixed Methods Research
Leveraging tools from a qualitative as well as quantitative approach, we outlined the research to include a company-wide survey, interviews, workshops, and immersions across three offices across the US.


Quantitative Survey
We began with Gensler's Workplace Performance Index Survey that identifies aspects of spatial design that employees most respond to and ask for. We customized the questions to explore space-agnostic topics like pride and community.


Qualitative Immersions
Through executive interviews, workshops, observations, and intercepts across three clients offices, we deepened our understanding of the work, the process, and the culture.
Synthesis Methodology
Employing a clustering technique, we identified patterns of unmet needs across our research engagement tracks. Bucketing these findings for a higher-level insight and project vision helped frame the report storytelling.


Key Insight
Our research exposed a contradictory story of two minds, that of wanting to work alone while needing to co-create.

Across the board, the message was clear: this organization were most proud of their mentorship/apprenticeship model, but asked for spaces that would hinder that very activity. While employees strongly voice the desire for privacy and individualized work style, they hold deep value for community, mentoring, serendipitous connections.


Desired vs. Measured Behaviors
We found that KPIs—Key Performance Indicators—set by the organization, existed only for one half of the desired behavior set. This means that while internal collaboration and coordination was highly desired as a method of work, it was not being measured—and consequently, not formalized.


Driving Question
To boost the highly valued yet unrecognized mentorship behaviors, we framed the design approach toward reorganizing spatial hierarchy to boost flexibility, visibility, and serendipity. The goal was to design spaces that encourage collaboration, mentorship, and sharing.


Designing Interactions
Framing the task based on the desired interactions across active, passive, deliberate, and accidental behaviors, we constructed Guiding Principles to enable action.


Front & Back Porch
Defining key design elements to enable desired interactions, we envisioned a 'home' location for every employee with an adjacent 'back porch' and 'front porch'. This structure implemented the Guiding Principles in space, but required a rethinking of the spatial organization and hierarchy across the work environment. Overturning the traditional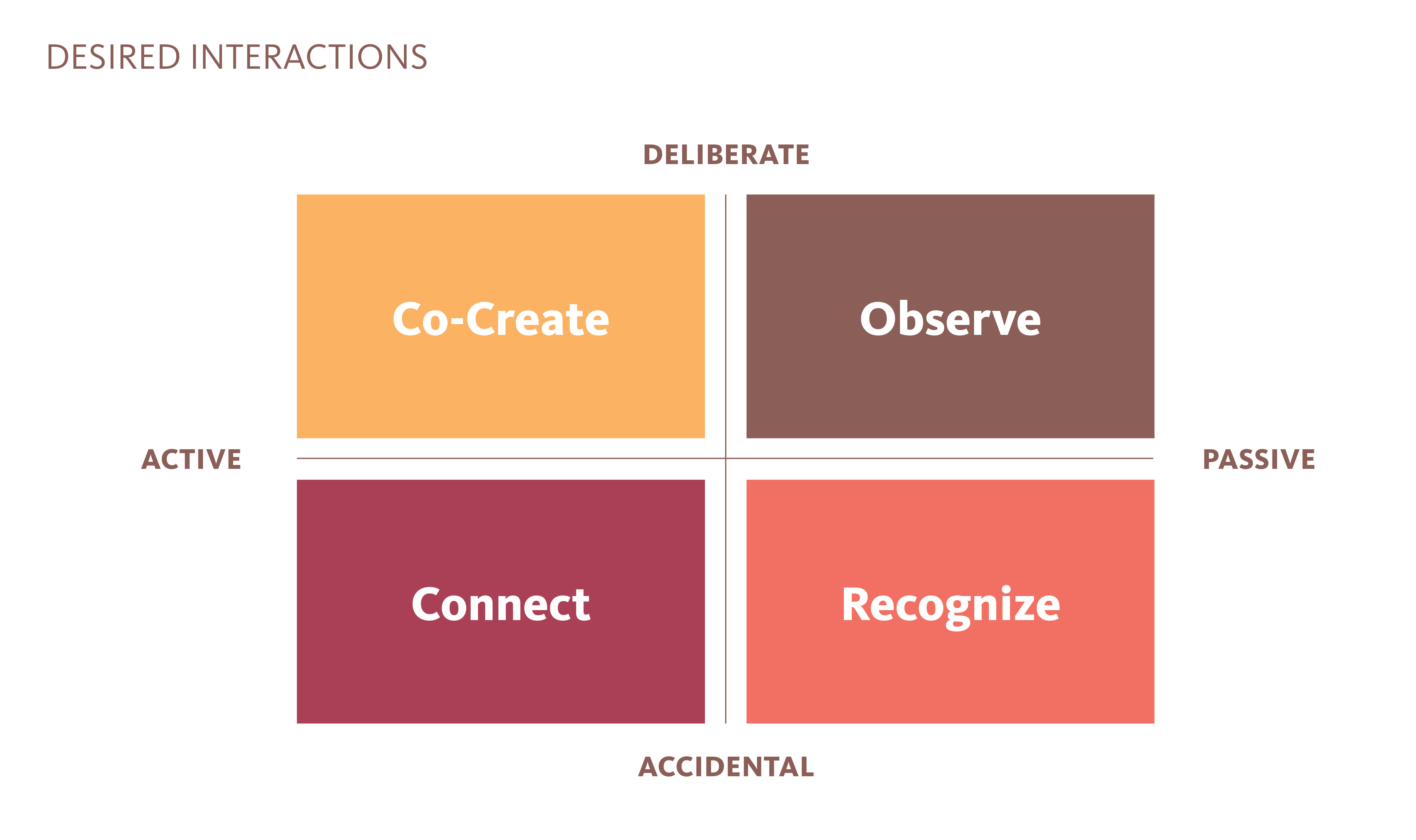 Test Fit Plan
'Pocket' Offices
Taking the Connect, Observe, Co-Create, and Recognize behaviors to the next level, we envisioned a new office design called 'Pocket Office'. This new individual space, flanked by two parallel walls but no side walls, championed the overall goal of the project, enabling a visible culture of mentorship.


CEO Presentation

To achieve momentum and adoption at scale, we presented the research, findings, and outcomes to the CEO of the company. The response was encouraging, with immediate approval for prototyping and global implementation of the original design language.